CONNECT Newsletter
---
CONNECT  |  Wednesday, Sept. 27  |   Message from the VP
 Dear Student Affairs Colleagues,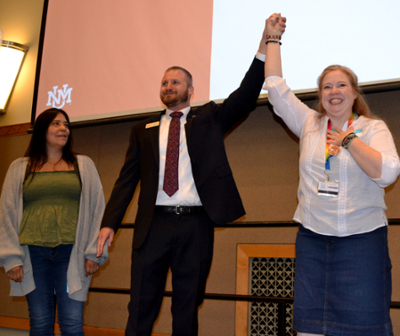 It was such an honor and pleasure to connect with you and see so many connecting with each other last week at our division All Staff Gathering. I thoroughly enjoyed the opportunity to hear from so many of you about the important work happening in our units and was excited to share progress happening at the division level. We discussed achievements from this past year and highlighted priorities for this coming year. Among those priorities were the launching of the DSA Staff Professional Development Committee, strengthening assessment and annual planning processes, making progress on student wellbeing and onboarding, and continuing to strengthen our leadership culture. 
 We also officially launched our division strategic planning process with the theme Engage to Innovate, inviting the entire division to join together in shaping the future of our work and correspondingly the student experience in alignment with the UNM 2040 Strategic Framework. This Thursday, a signature part of that experience will take place on campus as we invite our students to the annual Silent Lights event at 8 p.m. on Smith Plaza. We will also elevate our perspectives at the tethered balloon launch on Johnson Field, Monday beginning at 7 a.m. I hope you will encourage students to join us at this exciting event to launch the fall season on campus. While this is a busy and exciting time on campus, I hope you will also find time to savor the season, events, and the near perfect weather in our beautiful community. Thank you for all you do to sustain an incredible network of service and support for our Lobos. See you around campus!
With Appreciation,
Eric