McIver Appointed Executive Director for Student Health and Counseling
June 1, 2023 - Dorene DiNaro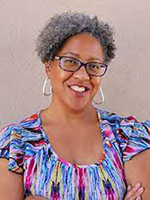 Dr. Eric Scott, vice president for student affairs, with support from university leadership, has appointed Dr. Stephanie McIver as the Executive Director for Student Health and Counseling (SHAC) at UNM.  McIver, who is currently serving in this role on an interim basis and previously served as the director for SHAC Counseling Services officially begins permanent appointment on July 1st, 2023
 Under the supervision of the Vice President for Student Affairs and with support from the newly forming SHAC oversight committee, McIver will lead an integrated, multidisciplinary team of mental health, medical professionals, wellness professionals, and support staff in overseeing and administering the delivery of campus-based community health services.
 "Dr. McIver's contributions to SHAC have already been felt with her stewardship of the 'acute plan' for mental health resources to help alleviate access barriers to students seeking support for their mental wellbeing through increased culturally responsive staffing," says Scott. "She has also been leading a strategic planning process and was instrumental in hiring staff to fill key vacancies that are improving efficiency and effectiveness across SHAC services."
 Additionally, McIver will represent Student Health and Counseling on University policy and planning committees, present student health policies for approval, and serve as the University's designated advisor on student mental and medical health-related issues.
 She will continue to build upon the foundation of optimizing student services across campus, and will play a key role in engaging with leadership and colleagues to strengthen and enhance collaborations with UNM Health Sciences.
 "I grew up here in Albuquerque just five minutes from campus with a physician father who introduced me to the world of healthcare early on," she says. "I started my foray into healthcare as a candy striper at Presbyterian at the age of 12."
 McIver is a graduate of Spelman College and The Ohio State University where she began her pre-doctoral training at the college counseling services. She held previous collegiate health positions at Santa Clara University and University of California at Santa Cruz and worked in Acute Psychiatry at Stanford Medical Center.
 As the key supervising staff of counselors, psychologists, psychiatrists and social workers in the mental health field, and a participant in the accreditation process, McIver offers a distinctive perspective on the personnel, processes, and procedures necessary for an effective student health and counseling center.
 "Dr. McIver is an outstanding leader and a wonderful colleague. Her continuity of leadership with SHAC will position us to build on the strong foundations achieved to continue improving access to and quality of health-related services to our students and foster a culture of wellbeing on campus and beyond," Scott says.