Agoyo Named Executive Director for Student Support
June 6, 2023 - Dorene DiNaro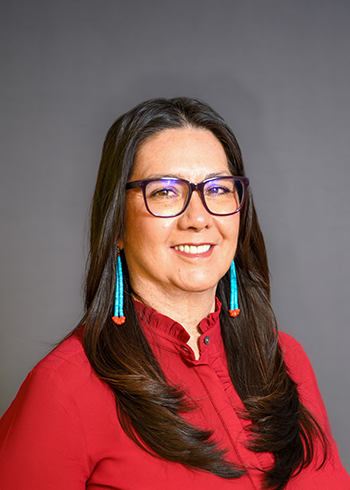 After a competitive nationwide search, Pam Agoyo (Cochiti, Kewa, Ohkay Owingeh) has been appointed as the new Executive Director for Student Support in the Division of Student Affairs.  Agoyo has been with The University of New Mexico in various capacities for over 25 years. She begins her executive director role on July 1.
Agoyo holds an Executive M.B.A, M.A. in Organizational Learning and Institutional Technology, and a B.A. in both Psychology and Sociology from The University of New Mexico.  
She most recently served as the director of American Indian Student Services, Special Assistant to the President for American Indian Affairs, and interim Co-Director for the Office of Advising Strategies at UNM. 
In her new role, she will serve as a key divisional leader, working directly with the Vice President for Student Affairs and collaboratively with the University's strategic vision and mission to develop and sustain high-quality student-oriented services addressing the programmatic, financial, operational, and physical infrastructure needs of each department in alignment with campus partners and the needs of the university community. 
 "I view the privilege of serving in the inaugural Executive Director for Student Support role as an opportunity to utilize the wide array of existing and emerging student development philosophies and theoretical frameworks to advance the UNM 2040: Opportunity Defined goals to help create change and sustain positive impact that's more firmly aligned with our students and the broader campus community," Agoyo says. "I'm honored to serve the institution in this capacity and am eager to advance the accomplishments and expertise of the Division of Student Affairs."
"Pam brings a wealth of knowledge, perspective, and experience to the Executive Director for Student Support role that will be invaluable as we continue to build programs and culture that support student success and a thriving, culturally relevant student experience," says Dr. Eric Scott, Vice President for Student Affairs. "Pam is known across campus for the quality of her work and dedication to students which makes her a perfect fit for this important role."
Agoyo will be charged with supporting Student Affairs departments with development and implementation of equitable, student-centered practices that lead to a high-quality, research-informed, and aligned student experience. She will provide direct supervision to African American Student Services, American Indian Student Services, El Centro de la Raza, Asian American Pacific Islander Resource Center, Women's Resource Center, Community Engagement Center, and College Enrichment and Outreach Programs.
"The University of New Mexico often references its diversity as a valuable attribute, and while important work on equity, inclusion and campus climate continues in collaboration with varying Student Affairs units, so much more can be done to support and elevate the student experience. Asking ourselves how we might minimize practices where deficit terminology is utilized to describe students and instead boost ability-centered language when embarking on goal-setting, analysis, and the ways in which we monitor important student advances is key," Agoyo says. "I'm excited about the additional successes we'll be able to realize by expanding our efforts in this area and highlighting the dynamic work Student Support units are already doing currently."
"Pam is a respected community, state, and national leader whose experience and professional perspectives will greatly benefit both students and staff," says Scott. "Her leadership in and contributions to organizations such as NASPA, Student Affairs Administrators in Higher Education and the College Board have elevated the work of UNM Student Affairs at the national level and in turn has influenced practice at institutions across the country."